Our School's Philosophy
We run a program which is cognitive-based; young children learn through active exploration in an environment which is rich in materials and opportunities to converse, socialize, work, play and negotiate with others. The classrooms are planned to encourage curiosity, exploration and problem-solving in an atmosphere of warmth, affection and respect for each child. Teachers plan activities based on children's interests and appropriate educational concepts. Children may work individually or collaboratively in various projects. Children are actively involved in experiences which include foundations of math, science, social studies, creative art, language arts, music, movement and dramatic play. All interrelated aspects of the child's growth and development are considered — intellectual, social, emotional, physical and creative.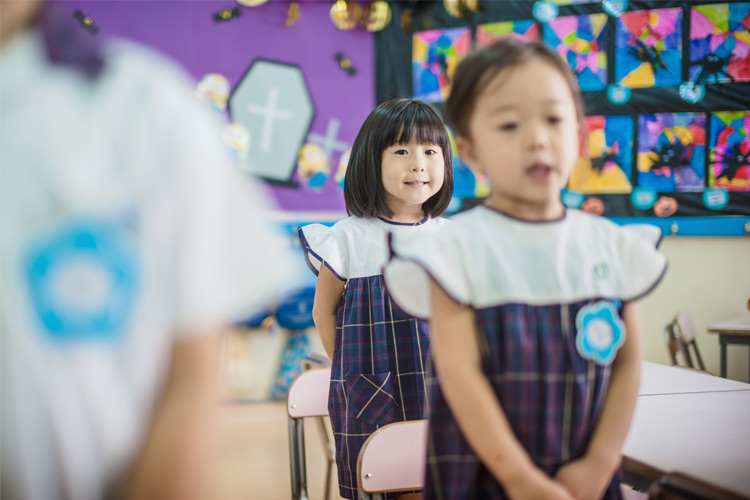 Activities
Experiences and teacher-child interactions are constantly being measured and evaluated in terms of the following programs goals:
1. Development of a positive self-concept
2. Respect for the individuality and rights of others
3. Positive ways of interacting with peers and adults
4. Acceptance and expression of both positive and negative feelings
5. Growth of independence and self-sufficiency
6. Growth of creative thinking and problem solving
7. Cognitive growth and development
8. Emergent literacy development
9. Small and large muscle development
Our Curriculum
Our curriculum provides the opportunities for children to learn in English, Mandarin and Cantonese. By using a thematic approach, children are able to relate their daily lives to real life experiences at school. By integrating the The Creative Curriculum® with our thematic approach, children can enjoy learning by doing. Emphasis on character building, independence and becoming a global citizen is a core part of our philosophy.
Is built on theories of development in young children that all children learn through active exploration of their environment and therefore the environment plays a critical role in learning. The goal of the Creative Curriculum® is to help children become independent, self-confident, inquisitive and enthusiastic learners by actively exploring their environment.
Curriculum
Social/Emotional, Cognitive, Physical and Language
The planned activities for the children, the organization of the environment, the selection of toys and materials, planning the daily schedule and interacting with the children are all designed to accomplish the goals and objectives of the curriculum to give your child a successful year in school.
The Creative Curriculum® shows teachers how to integrate learning in literacy, math, science, social studies, the arts, and technology throughout the day. It also gives the teacher a wide range of teaching strategies – from child-initiated learning to teacher-directed approaches – to best respond to children's learning styles, strengths, and interests. Our school uses the following to help provide a curriculum that can be integrated into the Hong Kong setting.
Interest Areas and Activities
Dramatic Play (Housekeeping)
Blocks (Large and Small)
Manipulative/Table Toys
Art
Sand, Water, Rice , Water Beads and More
Library
Music
Writing
Technology
Outdoors
Science
Listening Activities
Large Motor Area (Playgrounds)
Teacher's Role
Is to create an environment that invites children to observe and participate
Our environment is continually assessed using the Creative Curriculum® goals and objectives. These goals and objectives provide a direction for planning the program and a way to determine what children know and how they are developing.
This information enables teachers to respond to each child individually, to build on strengths, and target skills that need strengthening. Because our teachers have a holistic approach and focus on the 'whole child' to promote learning, the goals interrelate and focus on all areas of development:
Social/Emotional Development: children's feelings about themselves, the development of responsibility, and their ability to relate positively to others
Physical Development: children's gross and fine motor development
Cognitive Development: children's thinking skills, including the development of symbolic and problem-solving skills
Language Development: children's ability to communicate through words', both spoken and written
We supplement our literacy activities with Letterland® and The Oxford Reading Tree Series®.
Our math program is based off of Learning Resources® Hands on Standards.